Thought I'd give you a bit of a lift for the mid-week. Here's what we all were waiting for: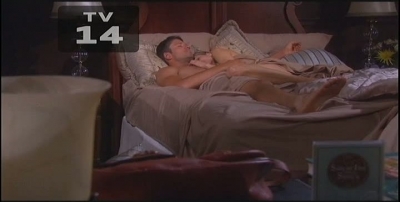 I was asked by a special someone to make some screencaps of the really hot preview of the 30 May 2011 episode where we finally get our Taylor and EJ love scene. May I say, it's sizzling. Between Tamara and James Scott (EJ DiMera) on
DOOL
and
Ted King
and Kassie DePaiva as Blair Cramer on
OLTL
, I'm going to need a shower…a nice…long…cold…shower. Yeah, right! For you Lynda.
[ 101 ] SCREENCAPS: 05/30/2011 – DAYS OF OUR LIVES PREVIEW
[ 001 ] MEDIA CLIP: 05/30/2011 – DAYS OF OUR LIVES PREVIEW
Late again. That will be my epitaph on my gravestone, "Here lies Dianne….Late Again!" I mean it!
Haven't Tamara and James been utterly breathtaking. I'm thoroughly enjoying their scenes. He looks so happy and animated. It's good to see a man enjoying his work. There's something James had to say on EJ's love life and the loves of his life. It's a Youtube video [ LINK HERE ]. I love that he says that Sami (Alison Sweeney) and Nicole (Arianne Zuker) are like games to EJ. He did say that EJ needed someone new in his life. And we all know who that someone is….Our girl! [ insert a lot of squeeeeeeeeeing here ].
Okay, I have a bit of a Keith Olbermann inspired commentary to make here. I will warn you, I'm likely to piss off some people but this is something I want to get off my chest. Since this is my space and my dime, I'm going to vent. So here we go……
I've been pretty pissed off at the various message boards I visit daily to test the air of those watching this current storyline with Tamara's Taylor and about her having taken over the role. And may I say I'm so disappointed. What I'm disappointed in is the amount of bellyaching about the loss of Natalia Livingston. The most common thing being said is how they (the individual posters) are ::air quote:: disappointed ::close air quote:: angry at the way Natalia was 'carted off' by the powers that be and the fact that the character as she set down has changed. I say, of course Taylor has changed. There's a different actress playing her now, a different vibe entirely. The thing most reiterrated has been they want the sweetness and innocence to remain. I say why? Why should those things remain when the character originally played by Katherine Ellis, didn't have that doe-eyed gullibility to her. After watching various clips of Katherine's work as Taylor from August 1998-May 1999, I can now see why this recast was warranted. Natalia, while a nice person, wasn't playing what the producer and writers wanted in the character as scripted. So they excercised their option and hired another actress who could bring to the table what they wanted.

There's only so long one can remain like a babe in the woods. Those kinds of characters get eaten up and spit out quickly. Tamara coming in to play a more layerd and worldly Taylor is what this part needed…as Katherine Ellis had in her portrayal. Remember Taylor went to work in that orphanage in Romania. One doesn't go to a shithole like that and not come back with a different aspect on life. One cannot see what Taylor likely saw there, experienced in terms of the military regimes and not KNOW the world. Natalia's saccharine sweet portrayal of Taylor would have ended up raped or dead in a place like that being a Westerner. So here's my question to all the Taylor 'fans' who think that Natalia's Taylor was the best: Do you believe she could have been in a country like Ramania and still be so sickeningly sweet and innocent?

I'll answer it from my perspective, no she can't. Tamara's version is far more worldly and far more experienced in the way things work than NL's could ever have portrayed. If the writing for Taylor….THIS Taylor were better and we got her backstory while she was away from Salem, I think THIS Taylor's detractors would be singing a different tune. For me it's all about who can portray the character the best and considering what was laid down with Katherine Ellis, Natalia Livingston was falling short of who Taylor was supposed to be. Kind, not sweet. Experienced, but not jaded. Worldly, this aspect most of all. This is not supposed to be a Disney cartoon of Taylor singing: "Some day my prince will come….." All the while being surrounded by butterflies and birdies. This is about a woman who is supposed to have gone out into the world and done work in the real world. Natalia's Taylor was plainly a combination of Cindarella, Snow White and Sleeping Beauty all rolled into one. I for one don't care to see another woman depicted like that on a soap. I want to see what blood Tamara will bring to this character. What meat she will add to the bones Natalia failed to populate. Taylor is supposed to be what now, mid 30s…not some flighty 16. Taylor is supposed to be a educated in the business world. One cannot be that naiveé and not know how things work.

My main reason for being this angry at what has transpired is following on the heels of two recent portrayls of women on soaps. They are Susan Haskell (Marty Saybrooke, ONE LIFE TO LIVE) and Emily O'Brien (Jana, THE YOUNG & THE RESTLESS). Both Marty and Jana were made to go whacko, kidnapping babies and generally becoming unrecognizable in light of who they were before. In Marty's case, a doctor who had been gang raped and survived. Jana had been cured of a brain aneurysm, yet was given another and suddenly her silicon chip got switched to overload due to being kidnapped and held for a series of weeks. Both actresses were assets to the shows they worked on, yet both have been reduced to nothing. One, O'Brien, is now gone from her show, Jana having died of her brain tumor. Haskell is yet to see her last day, but given the way this storyline has been going, it won't be long now. And of all things, Tamara's leading man, Ted King as Tomas Delgado has been dispatched to be the one to do the deed. I've yet to see any male character written off as a nutjob. No, they go down as heroes or are resurrected as some kind of god worthy of having maidens fall at his feet in awe. This has to stop. There was a line in the James Bond film CASINO ROYALE (2006) offered by the ill fated Vesper Lynd played by the stunning Eva Green. It goes like this: "You think of women as disposable pleasures, rather than meaningful pursuits…" That seems to be the feeling these days with writers who write for women on soaps. They've become appendages of their men instead of individuals on their own merit. One only has to look at Tamara's wishes for Carly after the final divorce from Sonny (Maurice Benard). Tamara wanted Carly to go off on her own for a while with her sons, Michael and Morgan, and just be a mom. She also wanted Carly to have a career of her own, something she could be proud of and build without a man. We all know how that turned out. And this is the heart of what I'm talking about. If anything comes of the firing of Dena Higley, head writer of DOOL, please oh please oh please Ken Corday, hire someone who can and is willing to write strong women capable of being their own forces of nature rather than bitches who concern themselves with make up, nails, catty retorts with other women, or the usual device used to delineate women on soaps these days, mud wrestlers with clevage and little else. Zwinkie's who resemble something of an MKULtra project gone wrong.

I'm sorry if this has offended, but I'm sick of seeing Tamara Braun and Katherine Ellis marginalized for the whiney Natalia Livingston fans who don't like it that their girl was fired.
I was going to say, "Rant over," but I think I'm going to say point proven. I'm hoping to get some press scans added to the gallery and the articles up in the press section this weekend now the backlog in episodes are done. Wish me luck…..
Sorry for not having these up on the day, but I've been sick and have also had to take care of my mom. May I say I'm loving Tamara's scenes with James (EJ). So good to see Tamara doing what she does best. I can hardly wait for the first actual love scene between them.